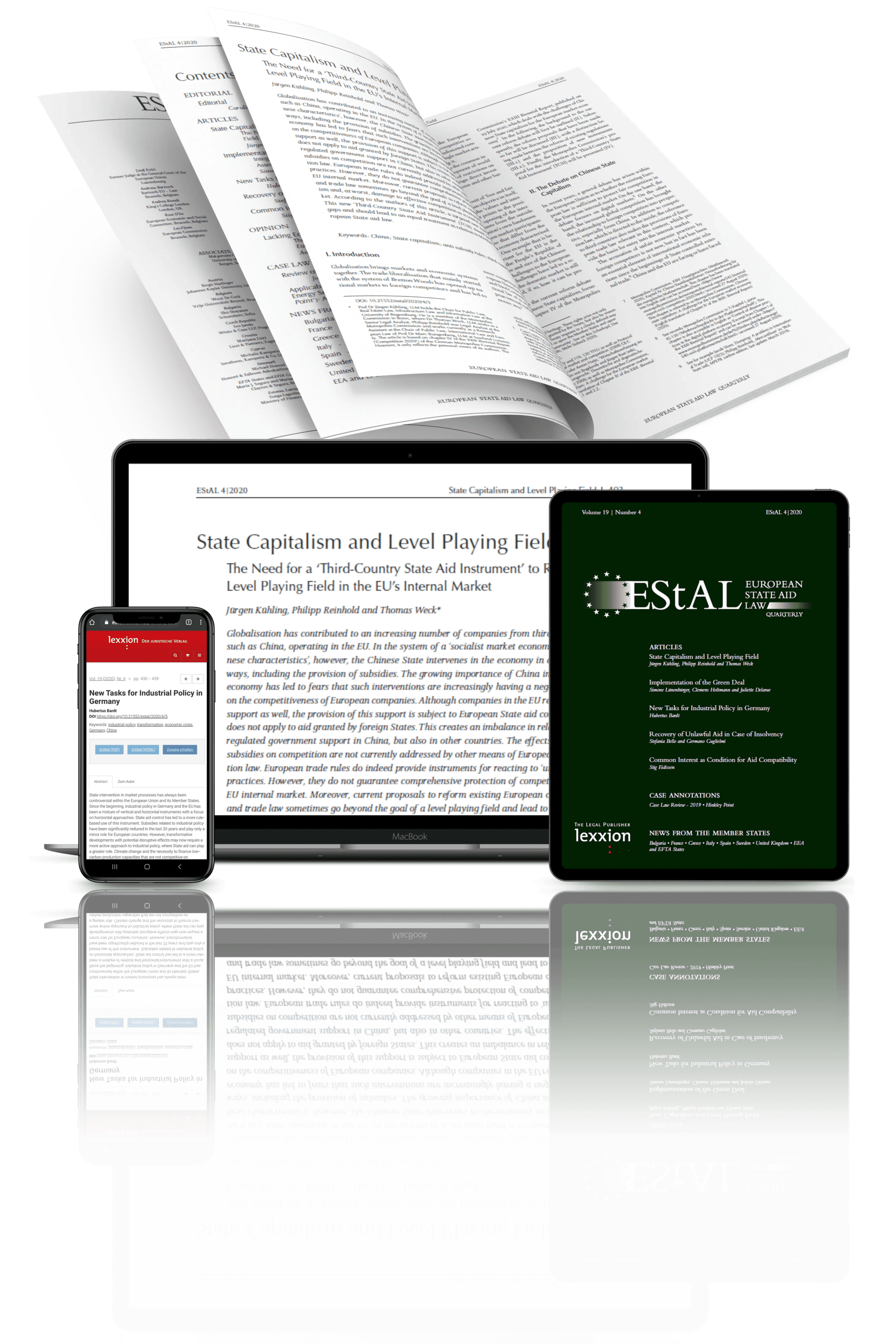 Publication frequency quarterly
approx. 100 pages
ISSN 1619-5272
Language: English
EStAL 3/2021 – PhD Award Nominations, UK Subsidy Controll Bill and More
Issue 3/2021 of the European State Aid Law Quarterly (EStAL) is out now! In this edition you can find the top 3 papers in the 2nd EStAL PhD Award in EU State aid law. The jury has shortlisted the best submissions and the winner will be announced soon at Lexxion's 2021 Autumn Conference on State Aid Law. The top 3 papers deal with: the recovery of unlawful fiscal State aid in Belgium, a Nordic perspective on soft law and their relationship with the block exemptions, and the minimisation of the expected cost of error in State aid enforcement. Beyond the PhD competition, EStAL 3/2021 also features two regular articles on the design of enforcement institutions, inspired on lessons from the UK's new State aid control regime and a reflection on the limits of 'proportionate' discrimination.
You can read our annual case law review, now offering a retrospective look at the most important judgments by the EU Courts in 2020. You can also read an analysis of Case T-578/17 a&o hostel and hotel Berlin GmbH v Commission (Jugendherberge Berlin).
In the News from the Member States section you can find reports on:
View all articles of EStAL 3/21 here.
Become an author for EStAL and view our Call for Papers.
Call for Case Notes
The editorial team of EStAL welcomes case note submission on the following judgments:
Judgment of the Court (Sixth Chamber) of 12 March 2020, Case C-576/18 Commission v Italy
Judgment of the General Court (Fourth Chamber) of 12 March 2020, Case T-901/16 Elche Club de Fútbol
Judgment of the General Court (Eighth Chamber, Extended Composition) of 23 September 2020, Joined Cases T-515 and 719/13 RENV Spanish Tax Lease
Judgment of the Court (Tenth Chamber) of 24 September 2020, Case C-516/19 NMI Technologietransfer
Judgment of the Court (Eighth Chamber) of 28 October 2020, Case C-608/19 INAIL v Zennaro
Judgment of the Court (Second Chamber) of 10 December 2020, Case C-160/19 P Comune di Milano v Commission
Opinion of AG – Cases C-50/19P and C-51/19P – Goodwill