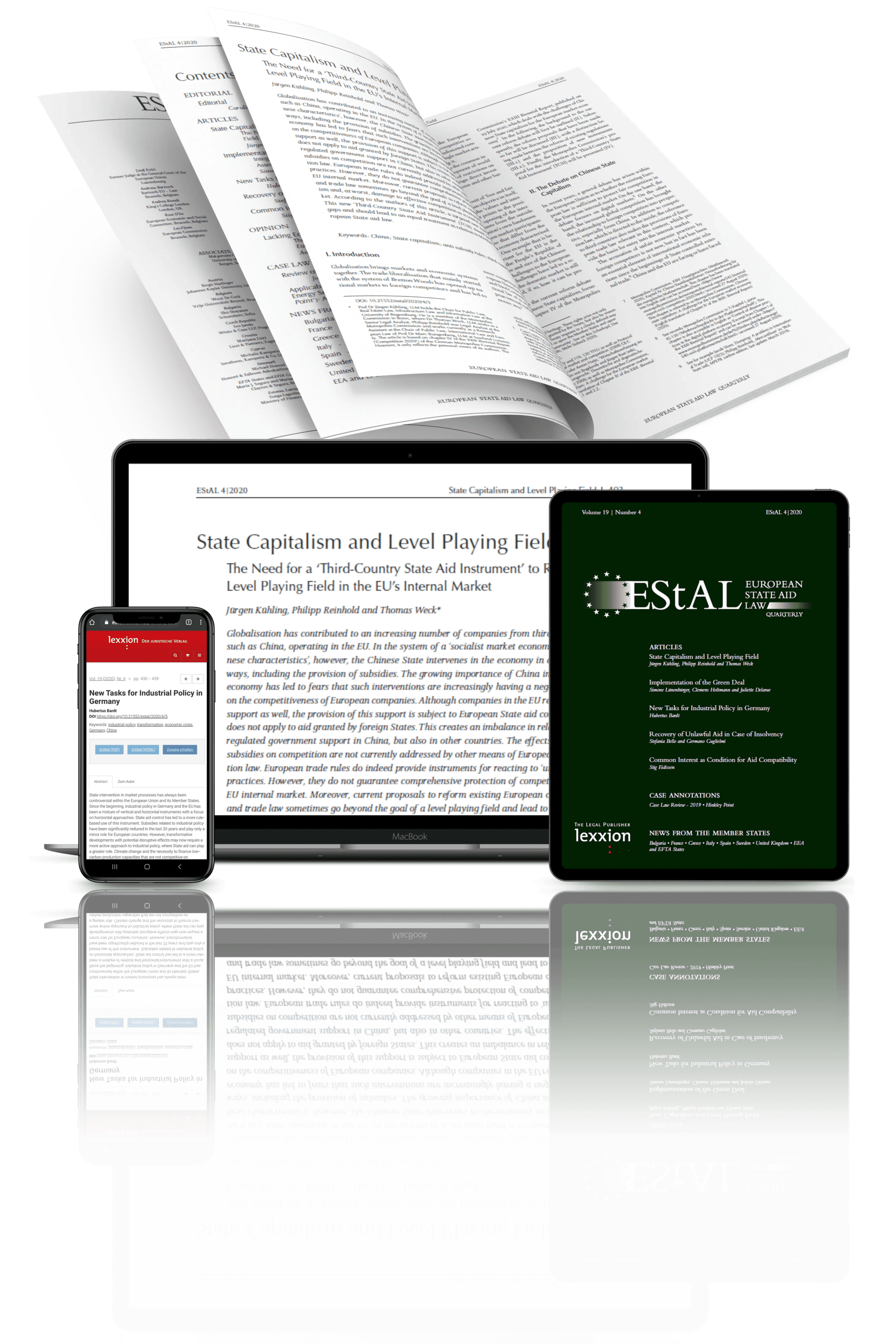 Publication frequency quarterly
approx. 100 pages
ISSN 1619-5272
Language: English
EStAL 2/2021 – Foreign Subsidies Regulation, Ryanair's Litigation and More
Issue 2/2021 of the European State Aid Law Quarterly (EStAL) is now available and packed with an impressive variety of topics. From analysing the big picture developments to fine-tuning the details in State aid law application in the EU – EStAL 2/2021 offers a comprehensive update for the State aid experts. Read articles on: the Foreign Subsidies Regulation, the differences in State aid allocations between old and new Member States, what is truly environmental aid in the context of the Green Deal, the Commission's case practice regarding the net avoided cost methodology, the application of State aid in social security schemes, and a review of Ryanair's litigation against approved COVID-19 aid measures.
Annotations on the following cases:
News from the Member States:
Also in EStAL 2/2021 – a book review of The Modernisation of State Aid for Economic and Social Development.
View all articles of EStAL 2/21 here.
Become an author for EStAL and view our Call for Papers.
Call for Case Notes
The editorial team of EStAL welcomes case note submission on the following judgments:
Judgment of the Court (Sixth Chamber) of 12 March 2020, Case C-576/18 Commission v Italy
Judgment of the General Court (Fourth Chamber) of 12 March 2020, Case T-901/16 Elche Club de Fútbol
Judgment of the General Court (Eighth Chamber, Extended Composition) of 23 September 2020, Joined Cases T-515 and 719/13 RENV Spanish Tax Lease
Judgment of the Court (Tenth Chamber) of 24 September 2020, Case C-516/19 NMI Technologietransfer
Judgment of the Court (First Chamber) of 21 October 2020, Case C-556/19 Eco TLC
Judgment of the Court (Eighth Chamber) of 28 October 2020, Case C-608/19 INAIL v Zennaro
Judgment of the Court (Second Chamber) of 10 December 2020, Case C-160/19 P Comune di Milano v Commission
Opinion of AG – Cases C-50/19P and C-51/19P – Goodwill