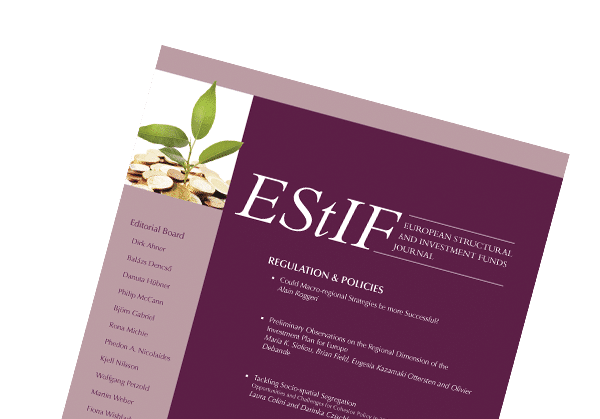 Publication frequency quarterly
approx. 80 pages
ISSN 2196-8268
Language: English
Issue 2/2019 – Special Issue on Simplified Cost Options
In the spirit of exchanging good practices, Trine Strange and Silas Berthou present lessons learned from the Danish Rural Development Programme, which has implemented standard scales of unit costs since 2015. Marija Herceg, Marin Paladin and Dragomir Pfeifer share experience of successfully implementing simplified costs under the ERDF/Cohesion Fund Competitiveness and Cohesion OP 2014-20 in Croatia, where simplified costs were used for a forest restoration and demining project. In the interview section, Louis Vervloet, Giorgio Centurelli and Maeve Hamilton provide lessons and recommendations for Managing Authorities.
Alongside these special issue contributions, two general articles are included. First, Eduardo Medeiros discusses the challenging concepts of defining and measuring territorial cohesion. Closing the issue, Laura Massoli and Laura Polverari describe the unique experience of the steering committee set up to help institutional and administrative capacity in Italy by coordinating interventions under Thematic Objective 11 (strengthening administrative capacity) and Thematic Objective 2 (digital growth).
View the full table of content of EStIF 2/2019
Become an author for EStIF and view our Call for Papers
Free Access to EStIF Online Articles
As of 2019 all online articles of the European Structural and Investment Funds Journal – EStIF are open access. As a knowledge provider we offer you expertise and insights on all issues concerning EU Funds for your daily work. To make this information widely available, Lexxion has decided to grant free access to all online articles. All you need to do is to register for free in our online shop and start reading.
The print journal can still be purchased for an affordable fee.
Sign up for free to get access to all EStIF online articles: SIGN UP HERE.