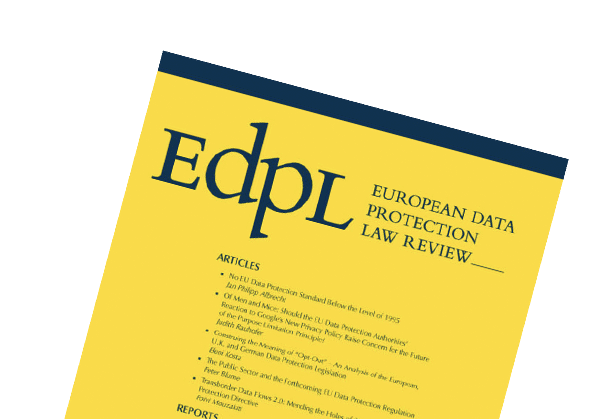 Erscheinungsweise vierteljährlich
ca. 100 Seiten
ISSN 2364-2831
Sprache: englisch
Issue 3/2019 – A Cornucopia of Data Protection Insights
The latest EDPL issue is out! Its impressive volume and diversity illustrates how active the world of data protection is these days. You can read the opinions of Aaron Fluitt et al and Dara Hallinan on the regulation of non-personal and aggregated data. In the articles section, leading experts explore the recent trends in the case law of the Court of Justice, assess the legal and ethical impact of data reuse, suggest ways to regulate Big Data in the post-GDPR era, use privacy icons to visualise data processing, and discuss the challenges of the Law Enforcement Directive.
The practical reports section brings you up-to-speed with the latest developments in:
Four annotations of important cases of the CJEU, General Court and US Supreme Court:

As the main media partner of the 41st International Conference of Data Protection and Privacy Commissioners, EDPL is featuring interviews with renowned commissioners from around the world.

View the whole content of EDPL 3/2019: HERE.
View our current Call for Papers
Interview with Rohit Chopra, Commissioner, US Federal Trade Commission: Interview Rohit Chopra (pdf)
---
Data Protection Insider
Sign up for the latest news on EU Data Protection.
In case you missed Issue 11, a PDF file can be found here: Issue 11 (pdf)
---
EDPL invites young researchers at the beginning of their academic career (Master or PhD students) to submit articles based on their thesis for the 4th annual EDPL Young Scholars Award.
Please check out our Call for Papers: Young Scholar Award 2019