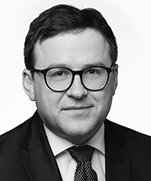 Michał Bernat
Counsel, Dentons Warsaw
Michał is a Counsel at Dentons Warsaw and a member of the firm's state aid and tax practices.
Michał graduated from Warsaw University (Master of Laws, 2002), the British Centre for English and European Studies at Warsaw University in association with Cambridge University (2002), and the Droit français et européen des affaires course at Warsaw University in association with the Université de Poitiers (2013). He also holds an International Practice Diploma in Competition Law from the International Bar Association (IBA) and the College of Law of England and Wales. In April 2011 Michał received his doctoral degree from the Institute of Legal Studies of the Polish Academy of Sciences, his thesis being: The Rights of 'Interested Parties' (Other than Member States) in Proceedings Concerning Illegally Granted State aid. Michał became a legal advisor in 2011 and has been a tax advisor since 2004. His track record includes also internships with the European Commission and the European Court of Justice, as well as employment with a consulting firm and in reputable Polish laws firms.
Michał is a regular speaker at conferences and seminars and has authored numerous publications dealing with state aid and tax issues.
He speaks Polish, English and French.