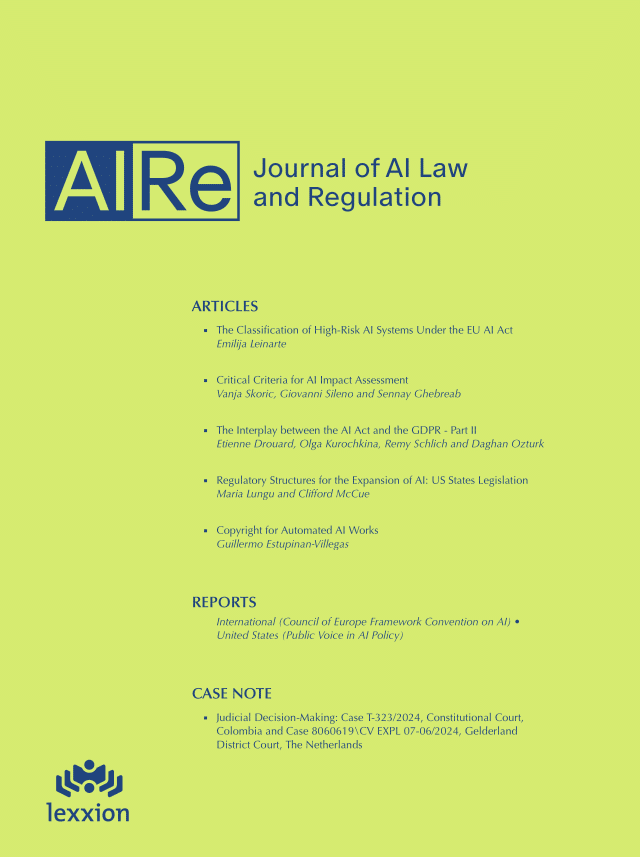 Erscheinungsweise vierteljährlich
ca. 80
ISSN 2942-4380
eISSN 2942-4372
Sprache: Englisch
AIRe – Call for Papers
Journal of AI Law and Regulation (AIRe) reports on key legislative developments in the governance of artificial intelligence (AI) in jurisdictions around the world. The journal is an impartial platform for discussing the role of law and regulation in managing the challenges and opportunities of AI's impact on society. AIRe covers diverse fields of law which are affected by AI, such as privacy and data protection, IP, anti-discrimination law, human rights, consumer protection law, as well as sectoral legal developments, eg in healthcare, financial services, transport, agriculture. The journal also analyses important judgments that shape the field of AI law and regulation, in particular those by the international courts and tribunals, regional courts (eg European Courts), and higher national courts. AIRe is published quarterly and is available in print and online.
Subscribe to the AIRe Journal Alert and receive the latest news about our new journal: AIRe Journal Alert.
---
Become an author for AIRe and view our Call for Papers.
---