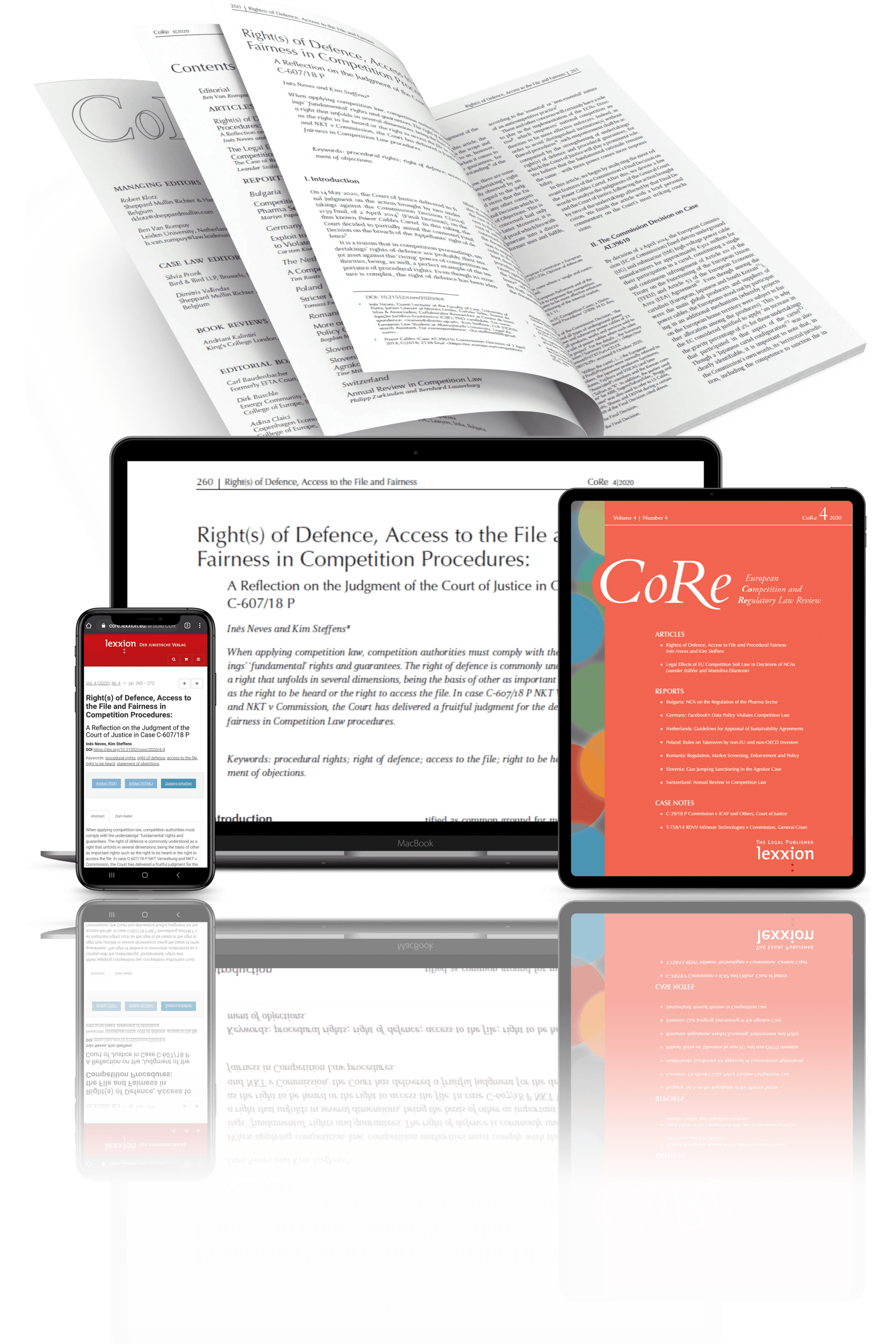 Erscheinungsweise vierteljährlich
ca. 80 Seiten
ISSN 2510‐3148
Sprache: Englisch
CoRe 3/2021 – Implementation of the ECN+ Directive
Issue 3/2021 of the European Competition and Regulatory Law Review (CoRe) is now available. In this edition, we have a special focus – we offer the first comprehensive overview of the implementation of Directive (EU) 2019/1 (the ECN+ Directive) in all EU Member States that have already transposed it or have published a draft national law. The Reports section is where you will find the analysis of the ECN+ implementation in 23 Member States, as well as a very useful summary of the status quo and trends in the transposition. Beyond this topic, in CoRe 3/2021 you can read articles on: killer acquisitions and other forms of anticompetitive collaborations with a case study on the pharma sector; the application of economic methodologies in quantifying sustainability benefits potentially stemming from an agreement, a merger, or State aid.
Read the open access overview and the special country reports on the implementation of the ECN+ Directive in:
Austria · Bulgaria · Croatia · Cyprus · Czech Republic · Denmark · Estonia · Finland · France · Germany · Hungary · Italy · Latvia · Lithuania · Luxembourg · Malta · Netherlands · Poland · Portugal · Slovak Republic · Slovenia · Spain · Sweden
Find out the possible implications for the Commission's commitments policy from the annotation on the judgment by the Court of Justice:
Case C-132/19 P Groupe Canal +
Also in issue 3/2021 of CoRe, a review of Ariel Ezrachi's book Competition and Antitrust Law: A Very Short Introduction and the most read post from our CoRe Blog over the last 6 months – 'Corona and EU Economic Law: Free Movement of Goods'.
View the whole table of content of CoRe 3/2021: Here
Become an author for CoRe and view our Call for Papers.
Call for Case Notes
The editorial team of CoRe welcomes case note submissions on the following judgments and decisions:
• Order of 16 July 2020, C-883/19 P – HSBC Holdings and Others v Commission
• Judgment of the Court (Fourth Chamber) of 20 January 2021, C-301/19 P – Commission Printeos
• Judgment of the Court (Grand Chamber) of 24 November 2020, C-59/19 – Wikingerhof GmbH & Co. KG v Booking.com BV
• Judgment of the Court (Second Chamber) of 25 November 2020, C-823/18 P – Commission v GEA Group
• Judgment of the General Court (Third Chamber) of 27 January 2021, T-691/18 – KPN BV v European Commission
[…]
See further cases in the full Call for Case Notes