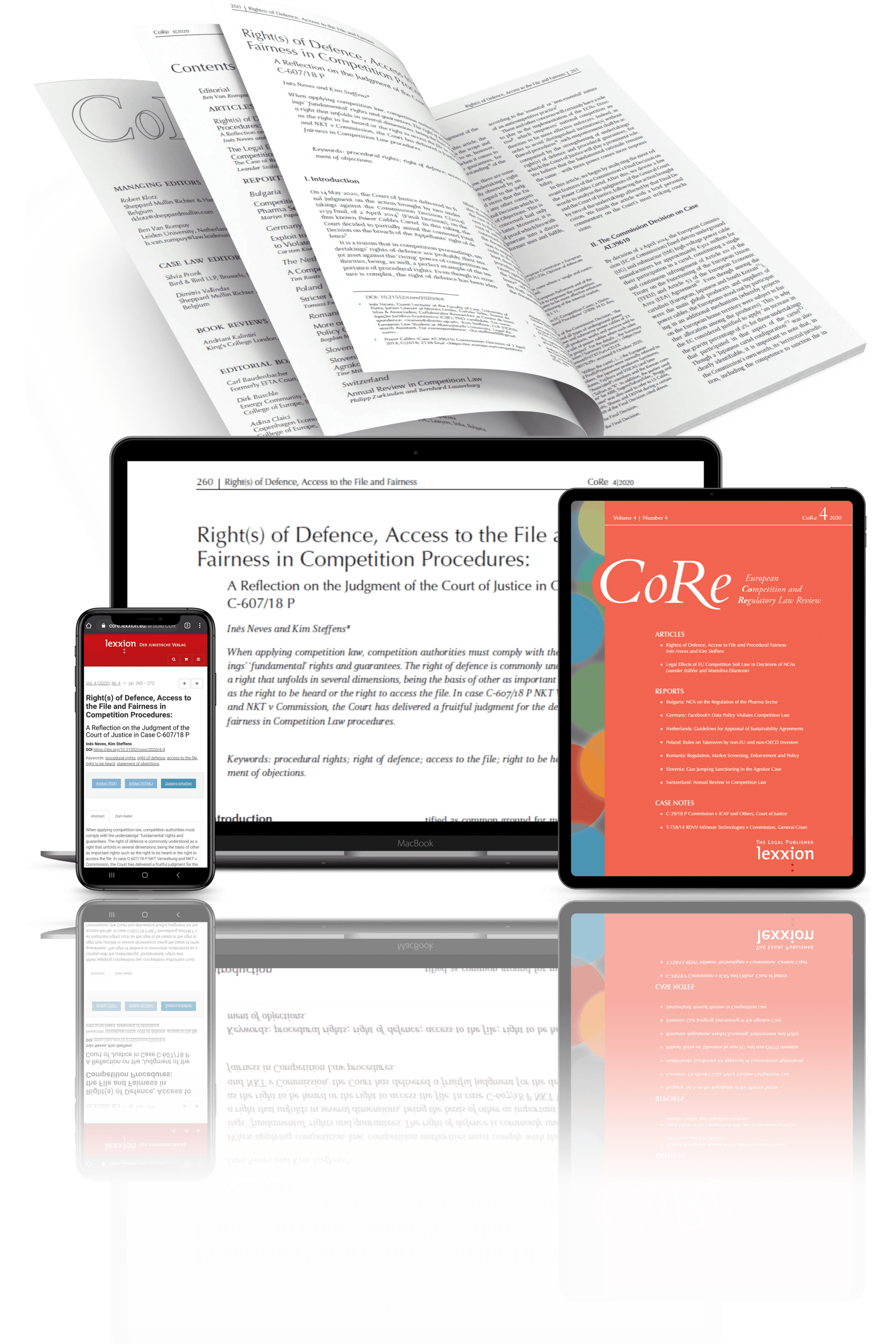 Erscheinungsweise vierteljährlich
ca. 80 Seiten
ISSN 2510‐3148
eISSN 2510-3156
Sprache: Englisch
CoRe 2/2022 – A Hot Competition Summer
Issue 2/2022 of the European Competition and Regulatory Law Review (CoRe) is out! Read articles on the impact of cartel investigations on the stock prices of the involved companies, and on recent developments in the essential facility doctrine. In this issue's country reports section you can find updates on:
Three judgments of the Court of Justice and one Commission decision are analysed in CoRe 2-2022:
The extensive book review of HL Karlsson's Conceptualising Procedural Fairness in EU Competition Law completes the summer issue of CoRe.
---
View the whole table of content of CoRe 2/2022: Here
Become an author for CoRe and view our Call for Papers
Call for Case Notes
The editorial team of CoRe welcomes case note submissions on the following judgments and decisions:
• Order of 16 July 2020, C-883/19 P – HSBC Holdings and Others v Commission
• Judgment of the Court (Fourth Chamber) of 20 January 2021, C-301/19 P – Commission Printeos
• Judgment of the Court (Grand Chamber) of 24 November 2020, C-59/19 – Wikingerhof GmbH & Co. KG v Booking.com BV
• Judgment of the Court (Second Chamber) of 25 November 2020, C-823/18 P – Commission v GEA Group
• Judgment of the General Court (Third Chamber) of 27 January 2021, T-691/18 – KPN BV v European Commission
[…]
See further cases in the full Call for Case Notes