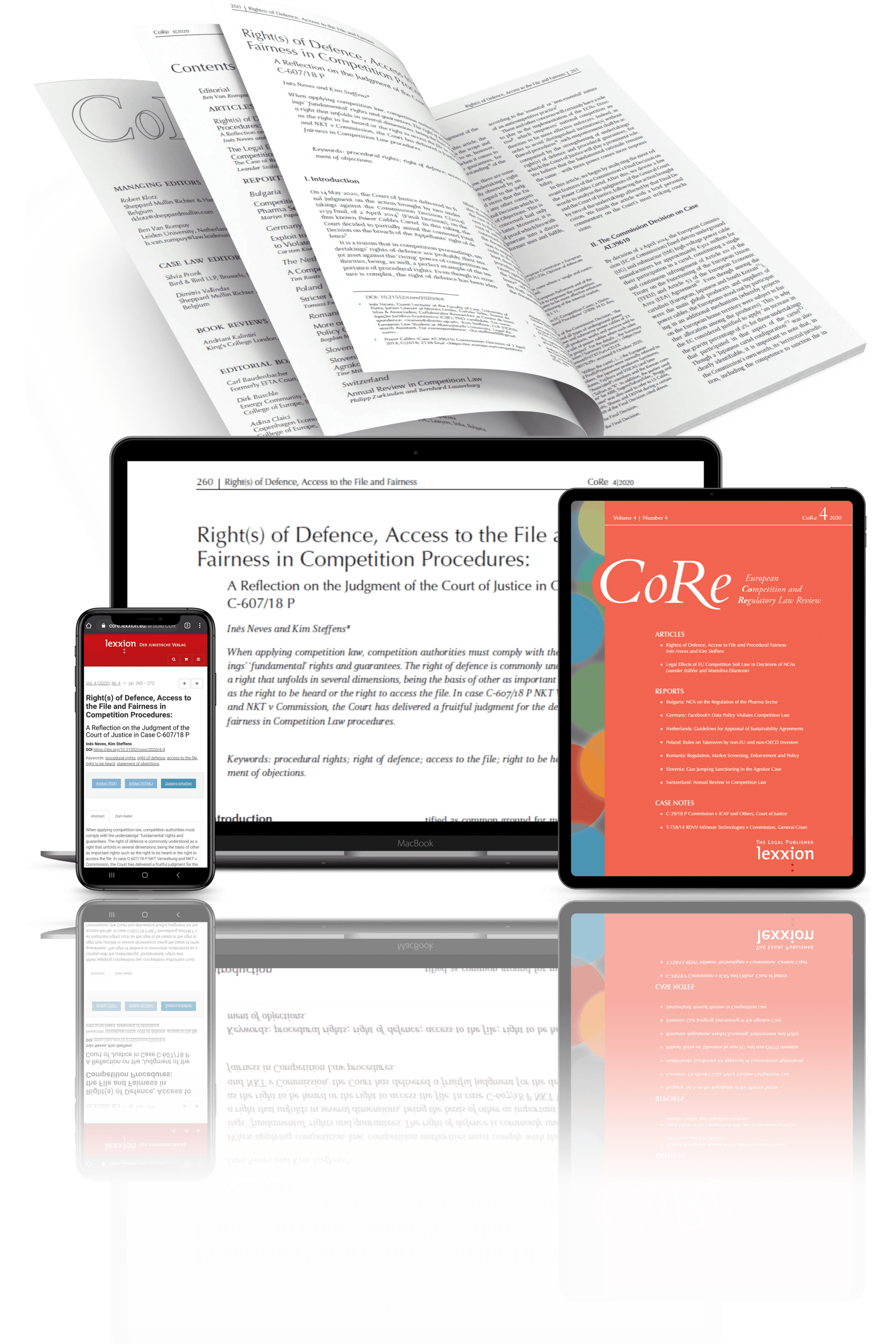 Publication frequency quarterly
approx. 80 pages
ISSN 2510‐3148
Language: English
Call for Case Notes
The editorial team of CoRe welcomes case note submissions on the following judgments and decisions:
• Order of 16 July 2020, C-883/19 P – HSBC Holdings and Others v Commission
• Judgment of the Court (Ninth Chamber) of 22 October 2020, C-702/19 P – Silver Plastics and Johannes Reifenhäuser v Commission
• Judgment of the Court (Second Chamber) of 21 January 2021, C-308/19 – Whiteland Import Export
• Judgment of the Court (Fourth Chamber) of 20 January 2021, C-301/19 P – Commission Printeos
• Judgment of the Court (Second Chamber) of 9 December 2020, C-132/19 P – Groupe Canal + v European Commission
[…]
See further cases in the full Call for Case Notes
CoRe 1/2021 – Improving EU Rules on Digital Platform Markets
Issue 1/2021 of the European Competition and Regulatory Law Review (CoRe) is out now! In line with the recent proposals of the European Commission for the Digital Markets Act (DMA), this edition of CoRe also focuses on digital platform markets. In the articles section, you can read about: addressing tacit collusion and the use of online pricing algorithms in gas stations, an overview of the developments that led to the DMA proposal and an analysis of the need for a reform of the merger rules for the digital sector, and  the track record of interim measures decisions at EU and national level and how to make this instrument more effective, part of which might be found within the DMA proposal.
In the reports section of CoRe 1/2021 you can find these updates from the EU Member States:
Read two annotations on the recent judgments of the Court of Justice:
Completing CoRe's first issue for 2021 are the book review of 'Competition, Effects and Predictability: Rule of Law and the Economic Approach to Competition' and the most read post from our CoRe Blog on the Epic v Apple case concerning App Store fees for in-app purchases.
View the whole table of content of CoRe 1 /2021: Here
Become an author for CoRe and view our Call for Papers.