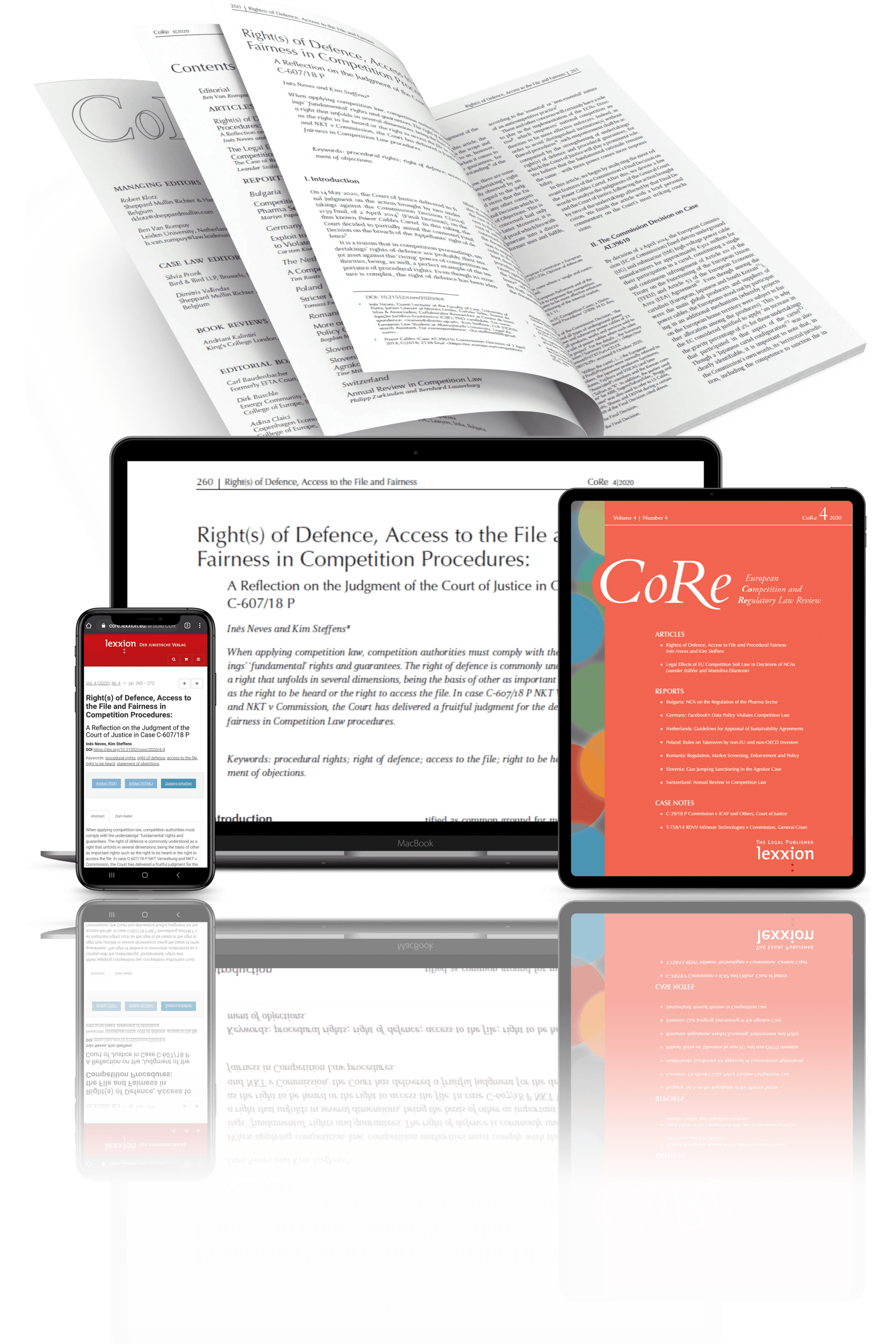 Publication frequency quarterly
approx. 80 pages
ISSN 2510‐3148
eISSN 2510-3156
Language: English
CoRe 4/2022 – Regulating Digital Markets
Issue 4/2022 of the European Competition and Regulatory Law Review (CoRe) has been published! Read articles on price signalling in Ireland and on whether there is a need for ex ante regulations in digital markets.
The country reports inform you about recent national developments from:
In the latest issue of CoRe you can also read a case note on the judgment of the Court of Justice in C-721/20 DB Station & Service AG v ODEG Ostdeutsche Eisenbahn GmbH.
Call for Case Notes
The editorial team of CoRe welcomes case note submissions on the following judgments and decisions:
Case C-385/21 Zenith Media
Case C-163/21 PACCAR a.o.
Case C-149/21 P Fakro v Commission
Case C-57/21 RegioJet
Case C-42/21 P Lietuvos geležinkeliai v Commission
[…]
See further cases in the full Call for Case Notes
---
View the whole table of content of CoRe 4/2022: Here
Become an author for CoRe and view our Call for Papers
Call for Case Notes
The editorial team of CoRe welcomes case note submissions on the following judgments and decisions:
• Order of 16 July 2020, C-883/19 P – HSBC Holdings and Others v Commission
• Judgment of the Court (Fourth Chamber) of 20 January 2021, C-301/19 P – Commission Printeos
• Judgment of the Court (Grand Chamber) of 24 November 2020, C-59/19 – Wikingerhof GmbH & Co. KG v Booking.com BV
• Judgment of the Court (Second Chamber) of 25 November 2020, C-823/18 P – Commission v GEA Group
• Judgment of the General Court (Third Chamber) of 27 January 2021, T-691/18 – KPN BV v European Commission
[…]
See further cases in the full Call for Case Notes