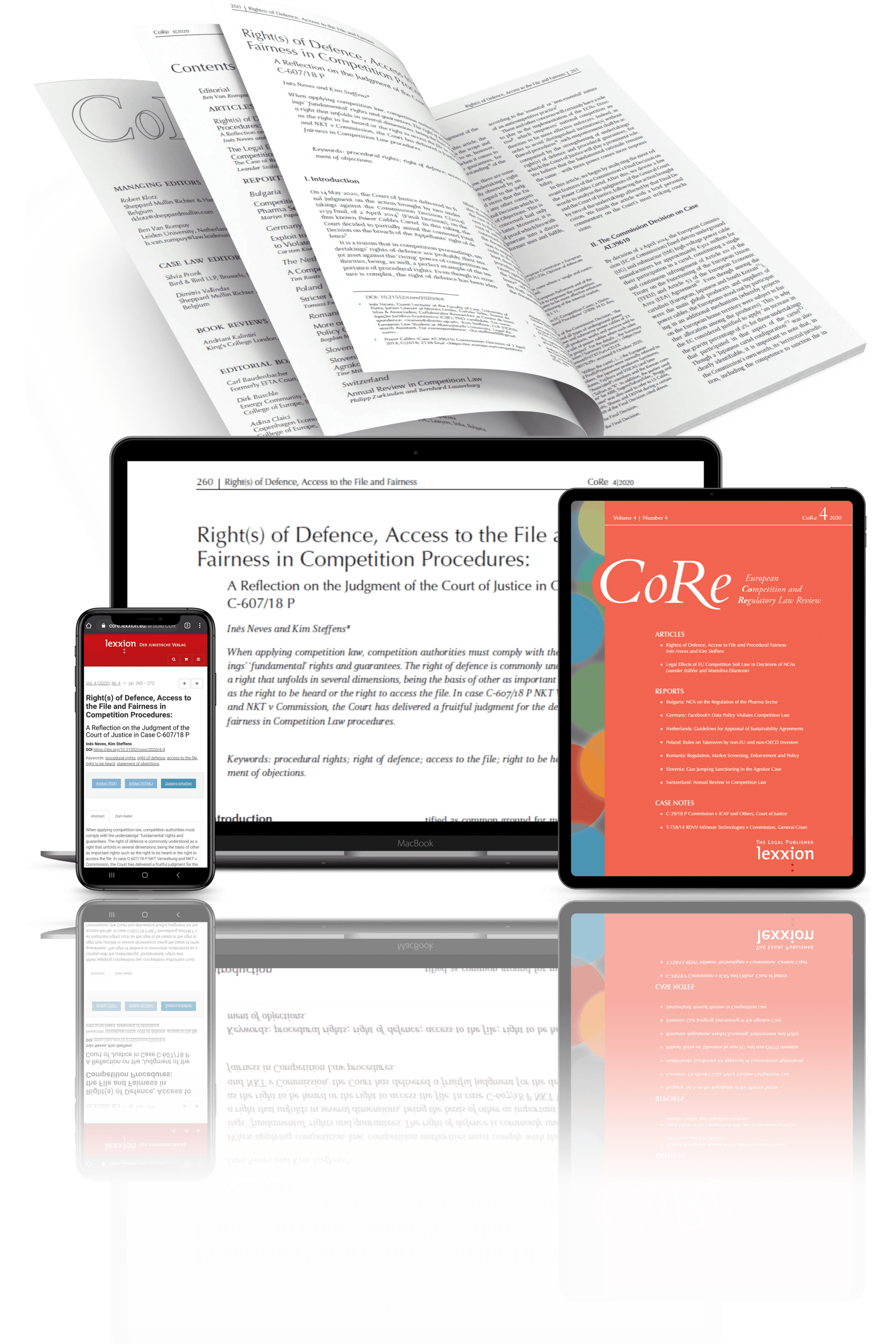 Publication frequency quarterly
approx. 80 pages
ISSN 2510‐3148
Language: English
CoRe 2/2021 – Digital Markets Still Take Centre Stage
Issue 2/2021 of the European Competition and Regulatory Law Review (CoRe) is now available! This latest edition's articles section continues to focus on the digital markets, in particular: improving the institutional design of the Digital Markets Act (DSM), the effectiveness of the EU merger rules for 'killer acquisitions' in digital markets, a rethink of the dynamic price setting by algorithms, and safeguarding competition through public procurement in the market for smart city services.
In the second issue of CoRe for 2021 you can also read country reports on:
Get updated on these recent judgments by the Court of Justice:
Also in this issue: a review of Viktoria Robertson's book Competition Law's Innovation Factor: The Relevant Market in Dynamic Contexts in the EU and the US.
View the whole table of content of CoRe 2 /2021: Here
Become an author for CoRe and view our Call for Papers.
Call for Case Notes
The editorial team of CoRe welcomes case note submissions on the following judgments and decisions:
• Order of 16 July 2020, C-883/19 P – HSBC Holdings and Others v Commission
• Judgment of the Court (Second Chamber) of 21 January 2021, C-308/19 – Whiteland Import Export
• Judgment of the Court (Fourth Chamber) of 20 January 2021, C-301/19 P – Commission Printeos
• Judgment of the Court (Grand Chamber) of 24 November 2020, C-59/19 – Wikingerhof GmbH & Co. KG v Booking.com BV
• Judgment of the Court (Second Chamber) of 25 November 2020, C-823/18 P – Commission v GEA Group
• Judgment of the General Court (Third Chamber) of 27 January 2021, T-691/18 – KPN BV v European Commission
[…]
See further cases in the full Call for Case Notes