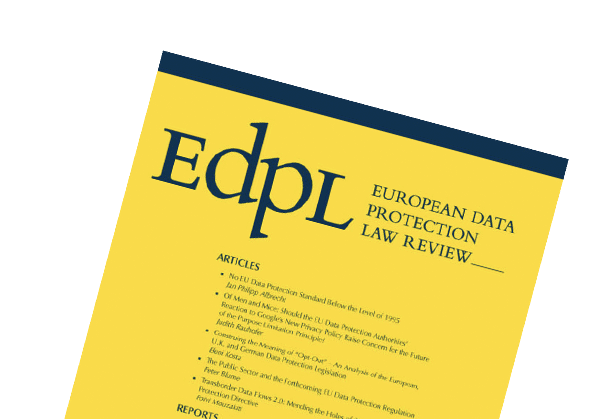 Erscheinungsweise vierteljährlich
ca. 100 Seiten
ISSN 2364-2831
Sprache: Englisch
Issue 1/2020 – 4th EDPL Young Scholar Award: Best 5 Articles
Considering the relationship between data protection law and the COVID-19 outbreak, responses by Member States' Data Protection Authorities are of key interest. With this in mind, we would like to point the interested reader to the overview of the DPA responses put together for the EDPL: COVID-19 Special
---
Leading scholars from the US and EU – James Rule and Janneke Gerards – have penned opinions on the notion of balancing. EDPL 1/2020 features the top five articles from the recently concluded European-wide competition for the most outstanding research by young data protection scholars.
Among the topics of the top ranked articles: public-private partnerships and public data in law enforcement, the legal safeguards for law enforcement's encryption circumvention, data protection in mobile wallets, the shortcomings of the PNR Directive in light of CJEU's Opinion 1/15, and regulating the dynamic concept of non-personal data in the EU.
Read about the latest developments from the Member States and beyond in our practical reports section:
Find three case annotations on judgements by the CJEU and the ECtHR:
Also in this issue, reviews of the books European Data Protection Regulation, Journalism, and Traditional Publishers and Good Data.
View the whole content of EDPL 1/2020: HERE
---
Become an Author for EDPL and view our Call for Papers
We cordially invites young researchers to submit articles based on their thesis.
Please use our Call for Papers:  Young Scholars Award 2020
---
Data Protection Insider Sign up for the latest news on EU Data Protection.
In case you missed Issue 22, a PDF file can be found here: Issue 22 (pdf)