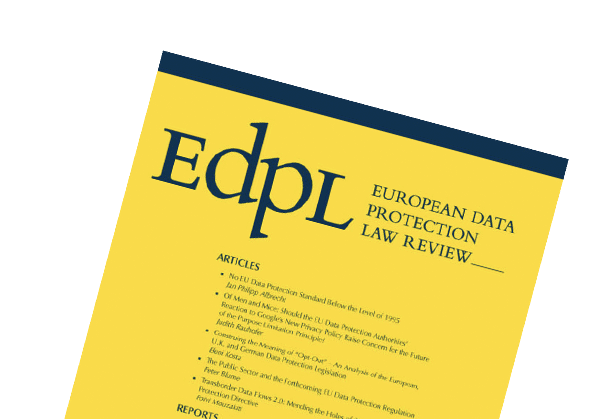 Publication frequency vierteljährlich
approx. 100 Seiten
ISSN 2364-2831
Language English
Issue 2/2019 – Focus on different Aspects on the Medical Domain
In the second issue of the European Data Protection Law Review (EDPL) renowned experts Antoine Picon and Esther Keymolen have published opinions on privacy and data protection in smart cities.
The Articles section of issue 2/19 focuses mostly on the medical domain, covering topics like:
to name a few.
Our GDPR Implementation Series continues with a report from Finland. You can also find reports on the Bundeskartellamt's Facebook decision, the EDPB's take on the interplay between the ePrivacy Directive and the GDPR, and a comparative report on data protection in Israel.
In the Case Notes section we have put together a diverse offer consisting of two judgments by the ECtHR (Big Brother Watch and ML and WW v Germany), and the US case Airbnb, Inc, and HomeAway.com v City of New York.
View the whole content of EDPL 2/2019: HERE.
View our current Call for Papers
————————————————————————————————-
Interviews with commissioners from around the world
In the run up to the 41st International Conference of Data Protection and Privacy Commissioners (ICDPPC) in Tirana, the European Data Protection Law Review (EDPL) is doing a series with interviews with commissioners from around the world. The first to answer questions by EDPL's executive editor Nelly Stratieva is Dr Andrea Jelinek, EDPB Chair and Director of the Austrian Data Protection Authority.
You can find a PDF version of this interview here: Interview Andrea Jelinek (pdf)
————————————————————————————————-
Data Protection Insider
Sign up for the latest news on EU Data Protection.
In case you missed Issue 4, a PDF file can be found here: Issue 4 (pdf)
————————————————————————————————-
EDPL invites young researchers at the beginning of their academic career (Master or PhD students) to submit articles based on their thesis for the 4th annual EDPL Young Scholars Award.
Please check out our Call for Papers: Young Scholar Award 2019