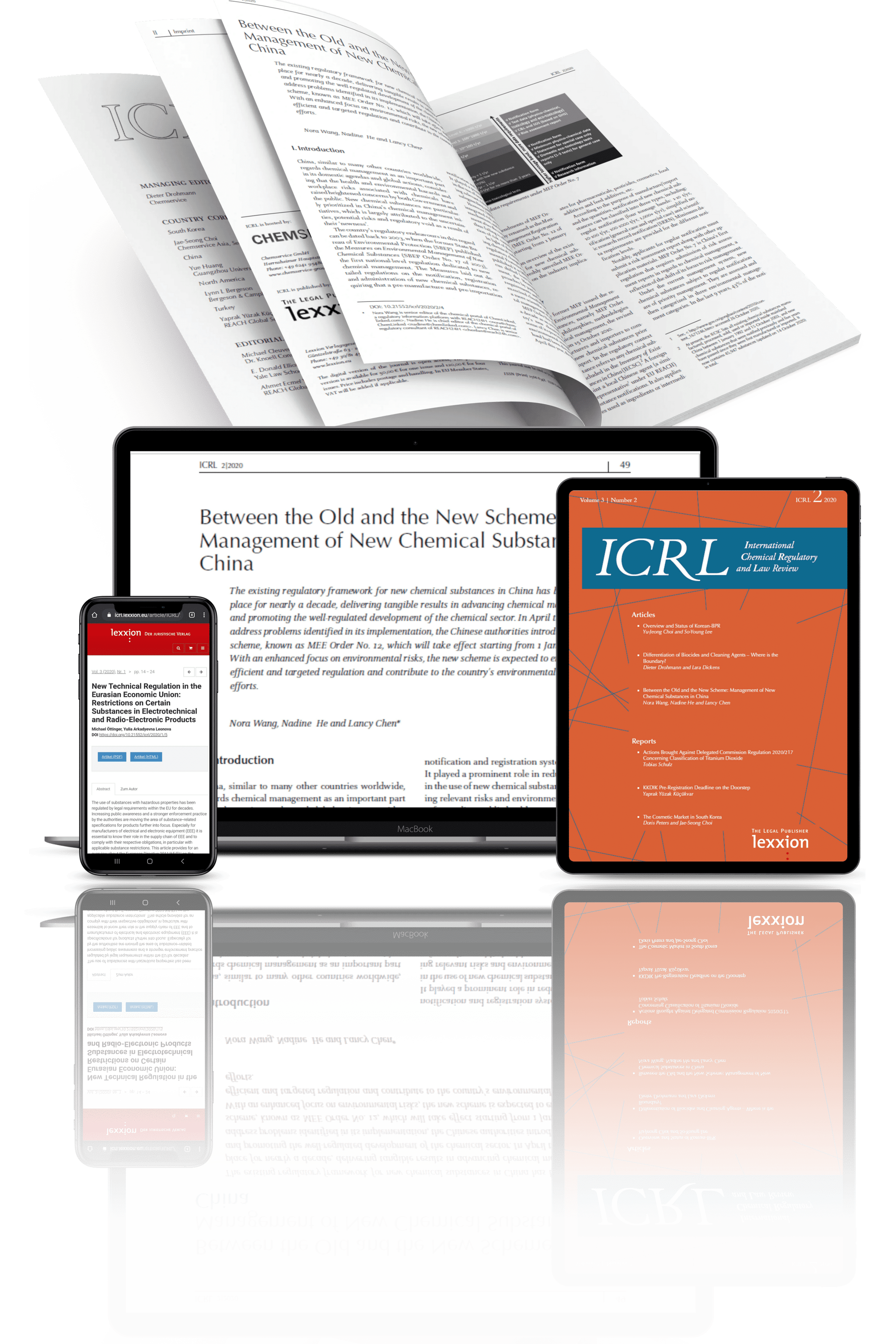 Erscheinungsweise vierteljährlich
ca. 70 Seiten
ISSN 2566-834X
Sprache: Englisch
About ICRL – International Chemical Regulatory and Law Review
Although it has been 10 years since the ground breaking EU REACH regulation came into force and fundamentally changed the way chemical substances are regulated, evaluated and authorised, this dynamic and ever changing policy area merits continuous scrutiny and analysis.
To provide a forum which will enable practitioners, regulators, policy makers and academics to discuss the most pressing issues in this field – in Europe and beyond – Lexxion has created the International Chemical Regulatory Law Review (ICRL).
Chemical law experts will report on key regulatory and legislative developments, not just in regard to EU REACH but also across the globe, and will analyse important processes that shape the interpretation and application of chemical regulation. Those relating to the international progress of chemicals registration, authorisation and restriction and the improvement of human health and environmental protection will be receive particular attention.
Aims & Scope
The quarterly journal addresses everyone who is concerned with EU REACH, chemical law and policy issues such as legal practitioners in national and international law firms offering their services to businesses in the EU and globally, government officials working in public administrations and other relevant policy-making and enforcement bodies, academics (in the field of law, biology, biochemists, chemists and pharmacists and other relevant research fields),  legal experts and judges in domestic, European and international courts as well as consultancies and business professionals.
ICRL reports on, inter alia:
Chemical law (regional, national, international);
Chemical regulation
The ECHA Board of Appeal
EU REACH
Commission decisions (ECHA opinions);
European and global Jurisprudence;
Regulation on crop protection;
Biocide law;
Transport law for hazardous materials;
Patents/Trademarks;
Licences;
Chemical registration
All articles will be subject to double blind peer-review before acceptance for publication and are required to conform to the author guidelines available.
ICRL's Target Audience
The quarterly journal addresses everyone who is concerned with chemical law and policy issues. Academics in the field of chemical law, biologists, biochemists, chemists and pharmacists may be particularly interested, while Government officials, as well as regulatory experts, working in public administrations and other relevant policy-making and enforcement bodies, will also find ICRL to be highly relevant to their work.
ICRL's Structure
ICRL will comprise of on in-depth lead articles as well as more concise reports on recent regulatory and legislative developments in the field.
Editors
Managing Editor
Dieter Drohmann, Chemservice
Editorial Board
Michael Cleuvers, Dr. Knoell Consult
Robert Campbell, Songwon Industrial Group
E. Donald Elliott, Yale Law School
Andrew Fasey, ECHA
Kristian Firscher, SZA Schilling, Zutt &Anschütz
Lawrie McLaren, Burson-Marstellere
Jean-Philipp Montfort, Mayer Brown
Eléonore Mullier, Steptoe & Johnson LLP
Tobias Schulz, VCI Landesverband Nordost
Volker Soballa, Evonik Industries
Michael Raupach, BASF SE
Tade Spranger, Center for Life Sciences & Law, University Bonn; Rittershaus law firm
Gooh Choo Ta, National University of Malaysia
Country Correspondents
| | |
| --- | --- |
| South Korea | Jae-Seong Choi, Chemservice Asia |
| China | Yue Huang, Guangzhou University |
| Turkey | Yaprak Yüzak Küçükvar, REACH Global Services S.A. |
| | |
| North America | Lynn L. Bergeson, Managing Director, Bergeson & Campbell PC |
Executive Editor
Jakob McKernan, Lexxion Publisher, Berlin
Do you want to make your contribution freely available to the public? This journal offers the option to publish open access (OA). Contributions published under the OA policy must still successfully pass peer review in accordance with the journal's Author Guidelines (view them under the section 'For authors' on this website). Please contact us for the current OA fee per contribution at info@lexxion.eu.
Read some of the open access contributions for free here:
Advertising Rates 2020 (excl. VAT)
All advertisement prices are valid from January 2020. Please provide the advert in a PDF/X-1a format +3 mm bleed (without crop marks).
Print run: 500
Format: 207 mm width x 277 mm depth; adhesive binding
Placement
Width in mm
Depth in mm
Prices in €
1/1 page
1/1 page truncated
207,00
157,50
277,00
220,00
550,00
1/2 page
157,50
107,00
275,00
Special placement
(surcharges)
2nd cover page
3rd cover page
+175,00
+175,00
Colour surcharges
per colour
220,00
Discount
3 Advertisements

6 Advertisements

3 %

5 %

Inserts/Supplements**
200,00
270,00
220,00
Banner ad
on request
** Insert size 200 x 270 mm or smaller, or already folded.
Inserts/Supplements have to be delivered at least one week prior to publication date. Delivery address:
Schaltungsdienst Lange oHG
z.Hd. Fr. Schulz, Beilage ICRL Heft _/2020 (Please state issue number.)
Zehrensdorfer Straße 11
12277 Berlin · Germany
Terminplan 2020
| | | |
| --- | --- | --- |
| Ausgabe | Anzeigenschluss | Erscheinungstermin |
| ICRL 1/2020 | 15.02.2020 | 30.03.2020 |
| ICRL 2/2020 | 15.05.2020 | 30.06.2020 |
| ICRL 3/2020 | 01.08.2020 | 21.09.2020 |
| ICRL 4/2020 | 10.11.2020 | 21.12.2020 |