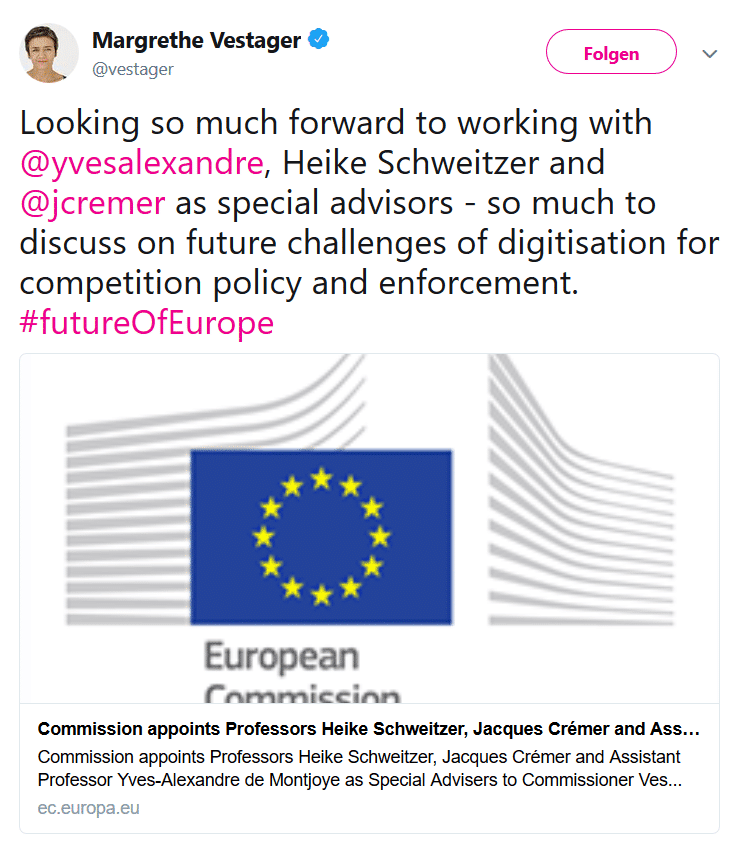 Prof Heike Schweitzer Will Advise Commissioner on Future Challenges of Digitisation for Competition
The European Commissioner for Competition, Margrethe Vestager gets top reinforcement in exploring how digitalisation is affecting the European market and how competition policy should respond to it. Last week she announced the appointment of the three Special Advisors – exceptional European experts in law, economics and technology – who will prepare a report on the future challenges of digitisation for competition policy.
We are proud to share that one of the selected Special Advisers is Heike Schweitzer, Professor of Law at Humboldt University of Berlin and Board Member of our European Competition and Regulatory Law Review (CoRe)! Prof Schweitzer will be joined in the distinguished advisory panel by Jacques Crémer (Professor of Economics, Toulouse School of Economics) and Yves-Alexandre de Montjoye (Assistant Professor of Data Science, Imperial College London).
The Special Advisers have been appointed for the period of 1 April 2018 to 31 March 2019. In the report they will prepare during that time they will apply their different disciplinary perspectives to the digital market and EU competition. The report will be published by 31 March 2019 and the Commission has already announced an open conference on 17 January 2019 to further debate the challenges of digitalisation.
Congratulations to Prof Schweitzer from the CoRe team!