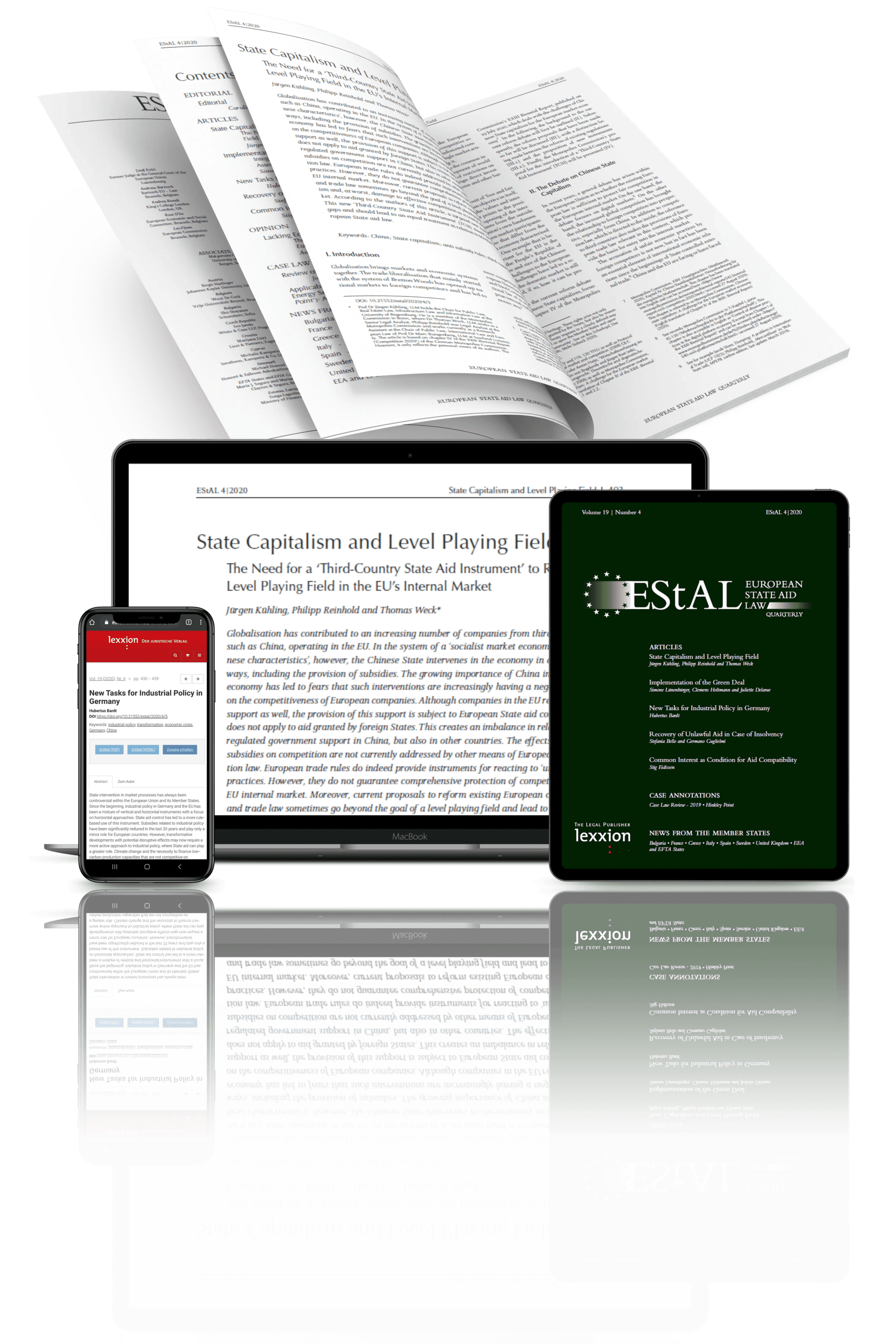 Publication frequency quarterly
approx. 100 pages
ISSN 1619-5272
eISSN 1619-5272
Language: English
EStAL 3/2022 – Energy, CEEAG and Risk Finance
Issue 3/2022 of the European State Aid Law Quarterly (EStAL) is out now! The Articles section reflects some of the key current issues in EU State aid law: find a summary of what's new in the revised Risk Finance Guidelines of 2021; how Europe can adapt to the energy crisis as seen through the lens of the European Commission's recent State aid practice regarding lignite- and coal-fired power plants and their decommissioning in the context of the European Green Deal, and aid for new nuclear power plants under the plethora of EU environmental regulations; and finally, the Taxonomy and the new State Aid Guidelines on Climate, Environmental Protection, and Energy (CEEAG).
In the Case Notes section you can read:
The News from the Member States will update you on the latest developments at national level:
Read a book review of the new must-have reference book for State aid experts: the Milestones in State Aid Case Law, 2nd Edition – EStAL's First 20 Years in Perspective.
Some highlights from the recent Autumn EStALI Conference in Brussels are also available in this issue of the journal. Take a look at the keynote speeches by the European Commission's Executive Vice President Margrethe Vestager and the Deputy Director-General for State Aid Policy, DG Competition Ben Smulders.
---
View all articles of EStAL 3/2022 here.
Become an author for EStAL and view our Call for Papers
Call for Case Notes
The editorial team of EStAL welcomes case note submission on the following judgments:
Order of 20 January 2022, C‑594/19 P – Deutsche Lufthansa v Commission
Order of 27 January 2022, C‑347/20 – SIA 'Zinātnes parks' v Finanšu ministrija
Order of 27 January 2022, C‑179/20 – Fondul Proprietatea v Guvernul României and others
Order of 24 March 2022, C‑656/20 P – Hermann Albers v Commission
See further Cases in the full Call for Case Notes !