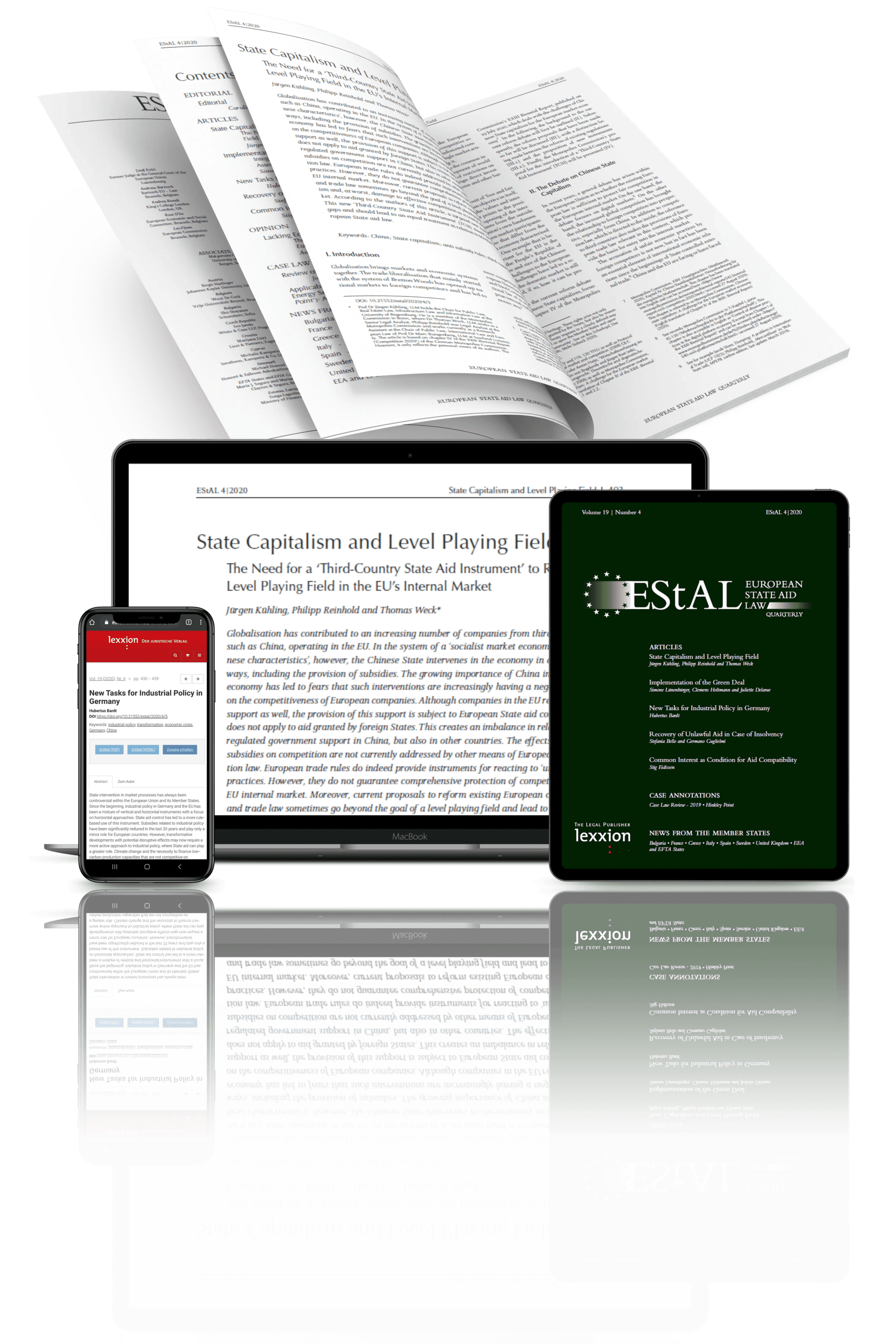 Publication frequency quarterly
approx. 100 pages
ISSN 1619-5272
eISSN 1619-5272
Language: English
EStAL 2/2023 Out Now
Issue 2/2023 of the European State Aid Law Quarterly (EStAL) is now available! In the Articles section you can read about: the EU Green Deal Industrial Plan; Incentive Effect of State Aid; Article 346(1) TFEU and Strategic Autonomy; Covid-19 and the State Aid Regimes Established by the Western Balkan Countries
Two Opinions on current topics discuss:
In this issue's Case Law Annotations section you can find up-to-date annotations on:
The News from the Member States inform you about the latest developments at national level:
Editor's Picks:
---
View all articles from the latest issue of EStAL here.
Become an author for EStAL and view our Call for Papers.
---
Call for Case Notes
The editorial team of EStAL welcomes case note submission on the following judgments:
Judgment of 15 September 2022, C 705/20 – Fossil (Gibraltar) v Commissioner of Income Tax
Judgment of 13 October 2022, C 164/21 – C 318/21 – SIA Baltijas Starptautiskā Akadēmija v Latvijas Zinātnes padome
Judgment of 8 November 2022, C 885/19 P and C 898/19 P – Fiat Chrysler Finance Europe and Ireland v Commission
Judgment of 14 September 2022, T‑597/19 Helsingin kaupunki v Commission
Judgment of 12 January 2023, C‑702/20 and C‑17/21 DOBELES HES' SIA
Judgment of 2 February 2023, C‑649/20 P, C‑658/20 P and C‑662/20 P Spain, Lico Leasing and PYMAR (Spanish Tax Lease)
[…]
See further cases in the full Call for Case Notes.