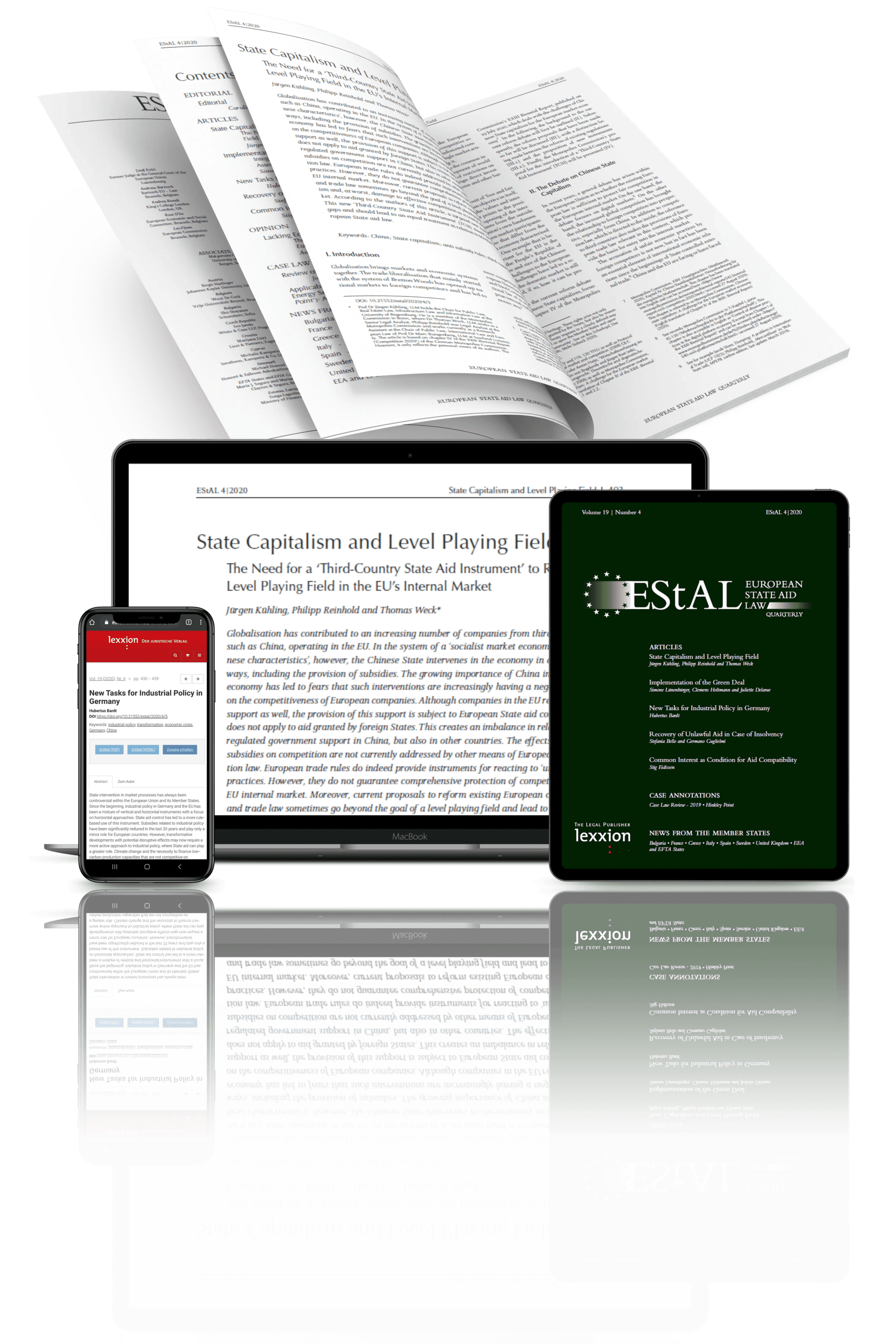 Erscheinungsweise vierteljährlich
ca. 100 Seiten
ISSN 1619-5272
Sprache: Englisch
EStAL 4/2021 – Wrapping Up an Eventful Year
Issue 4/2021 of the European State Aid Law Quarterly (EStAL) is now available! The last issue for the eventful 2021 offers articles that showcase some of the topics that have been keeping State aid experts busy this year: State aid related to COVID-19 for the air transport sector; digital service taxes under State aid scrutiny; the audit authorities' role as assurance providers in cohesion policy; and an assessment of the jurisprudence on what is an economic versus a non –economic activity. EStAL 4/2021 also gives you a sneak peek at the upcoming 2nd edition of the book Milestones in State Aid, where the leading experts in the field have assessed the landmark judgments of the past years. We offer you a glimpse into that book by featuring analyses on Montessori, Hinkley Point C, Eesti Pagar and Andres.
You can read an opinion on State aid assessment of complex settlement agreements, applied to the case of the German lignite phase-out. You can also find an annotation of Case C-556/19 Eco TLC.
In the News from the Member States section you can find reports on:
View all articles of EStAL 4/21 here.
Become an author for EStAL and view our Call for Papers.
Call for Case Notes
The editorial team of EStAL welcomes case note submission on the following judgments:
Judgment of the Court (Sixth Chamber) of 12 March 2020, Case C-576/18 Commission v Italy
Judgment of the General Court (Fourth Chamber) of 12 March 2020, Case T-901/16 Elche Club de Fútbol
Judgment of the General Court (Eighth Chamber, Extended Composition) of 23 September 2020, Joined Cases T-515 and 719/13 RENV Spanish Tax Lease
Judgment of the Court (Tenth Chamber) of 24 September 2020, Case C-516/19 NMI Technologietransfer
Judgment of the Court (Eighth Chamber) of 28 October 2020, Case C-608/19 INAIL v Zennaro
Judgment of the Court (Second Chamber) of 10 December 2020, Case C-160/19 P Comune di Milano v Commission
Opinion of AG – Cases C-50/19P and C-51/19P – Goodwill