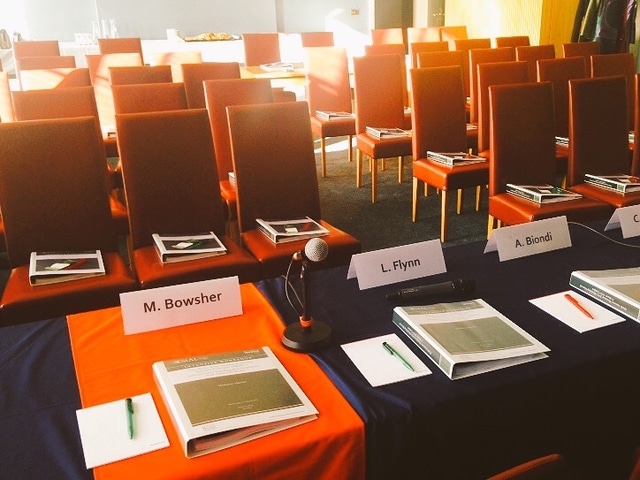 Interactive Seminar on The Role of the Market Economy Investor Principle (MEIP) | Infrastructure Funding in Compliance with State Aid Rules
March 11th 2015 was a busy day for the State Aid crowd who gathered at King's College in London for an Intensive Workshop organized by Lexxion. First of all we would like to thank all those, both speakers and participants, who were able to join us– we are very happy that so many of you from all over Europe were able to attend. Your active participation, your comments, questions and your sharing of knowledge made the EStAL2015 Intensive Workshop a great success.
---
Do you know we also publish a journal on State aid?


The European State Aid Law Quarterly is available online and in print, and our subscribers benefit from a reduced price for our events.
---
After some opening remarks the floor was given to our first set of keynote speakers. Chaired by Andrea Biondi (King's College London), Leo Flynn (Member of the Legal Service, AIDE Team, State Aids and Dumping, European Commission, Brussels) was the first one to share his insights on Recent Case Law on the Market Economy Investor Principle (MEIP). Following on, Andrew Meany (Partner, Oxera Consulting, London) brought us the economic perspective on the Market Economy Operator Principle (MEOP) and its application by using relevant case studies. Conor Quigley's (Serle Court Chambers, London) presentation on indirect state aid came next. Time passed quickly as participants and speakers were engaged in a lively discussion. The morning session ended with Michael Bowsher (Monckton Chambers, London) speaking about Infrastructure Funding in Compliance with State Aid Rules.The afternoon session of the Workshop turned out to be a highly interactive seminar on Infrastructure Financing and State Aid chaired by Michael Honoré (Partner, Bech-Bruun, Copenhagen & Managing Editor of EStAL). Together with Elisabetta Righini (Visiting Professor, King's College London, Former Member of Cabinet of Vice-president Joaquín Almunia at European Commission, Brussels) they both shared their vast experience on the subject.

The whole day was rounded off with a public lecture on EU State Aid Control, open not only to participants but also to the students of King's College, given by Marc van der Woude (Judge, General Court of the European Union, Luxembourg; Visiting Professor, King's College, London).

In this regard: Many thanks to all our speakers and participants – we hope to see many of you very soon again!

Date for the diary: Lexxion's next State Aid Event is taking place on April 9th – April 11th 2015 at Lake Starnberg: EStALI Seminar 2015 – Infrastructure Funding in Compliance with State Aid Rules

—————